The incarnation cross in Human Design is a significant influence in your life. The energies come from the sun and earth during the formation of your body, 88 degrees or loosely 88 days before you are born, and at the moment of birth. The cross is made up of the combination of energies from these 4 gates from the sun and earth and together they tell a story. From the spiritual perspective I see these as a platform from which you can do the spiritual work of your soul, like life life lessons and or missions of understanding.
Stefani Joanne Angelina Germanotta who is known as Lady Gaga was born on the cross named Upheaval. The cross contains some sharper energies like; the Fighter gate 38, the Provocateur gate 39, Opinions gate 17 and Correction gate 18. Simply put a person born on the cross of Upheaval is here to shake things up, to get things moving that might be stuck, to express opinions about something with which to bring a deeper understanding of it, and ultimately provide correction to bring joy to life.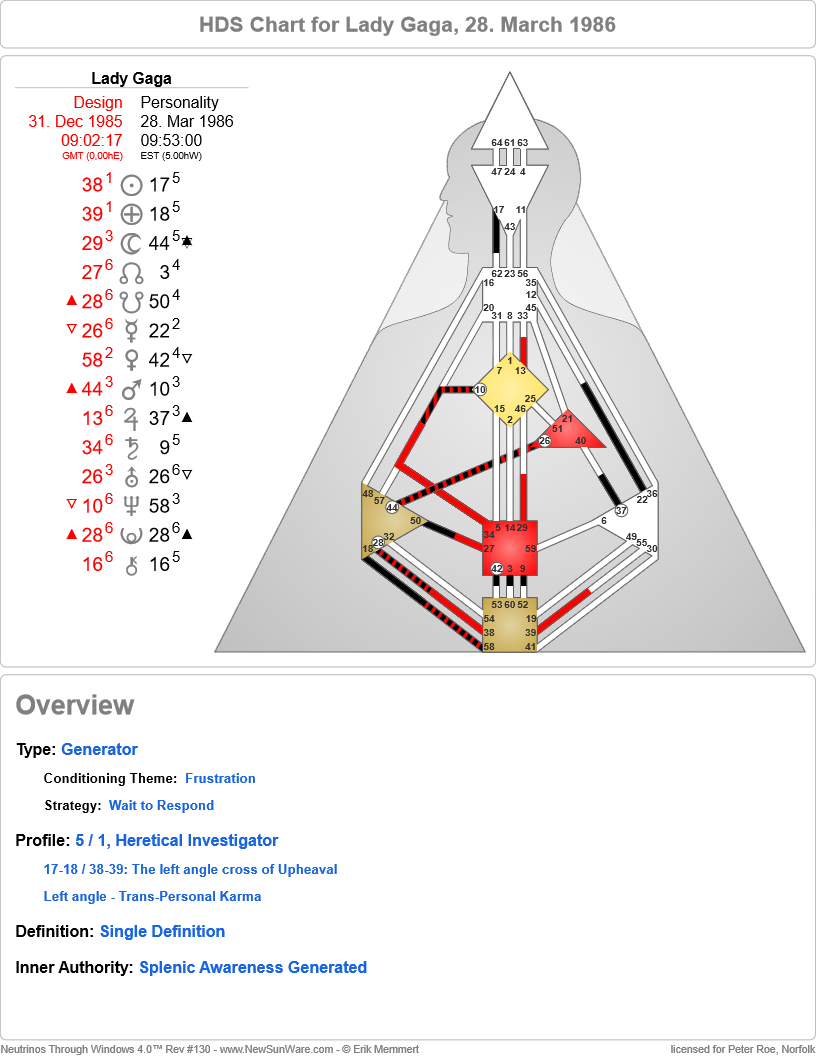 The fact is some crosses have softer energies, and some like Lady Gaga's are pretty sharp. While I was thinking of the contrast of sharper and softer energies, the song "Easy, Easy life Sunday morning", by Lionel Richie popped  into my head. So I ran his chart and there it was in his Human Design, he is a Vessel of Love, a softer energy.
But they all crosses have a purpose. Upheaval's are here to make us look at things, to face things that perhaps we don't want to look at or have been avoiding. They make us look at things in a deep way, to try and make them better or at least come to a deeper understanding and not just sit and ignore or passsively scratch the surface.
It has not always been easy for Lady Gaga. She was bullied as a kid and got a lot of bad press reviews as she was developing her career. But she says these experiences ultimately helped her to persevere. Perhaps some took her upheaval energies personally. A majority of the time, incarnation cross as well as other energies in a design are not expressed to be personal, they are just energy being expressed. The sun light when it shines into your eyes through your windshield is not personally trying to blind you it is just energy that was released.
Lady Gaga's use of many different outfits, including at one point wearing a suit made out of meat, is also an expression of her completely open throat. The open throat can use dress and flare to hold the attention of the listener, since there is no sustainable energy  in the throat center to get or hold the attention or invitation in the first place.
You can take the approach that it is your cross to bear or you can take the lemons and make lemonade. Ultimately what we do with our cross, be it softer, sharper or somewhere in between, is to use it to stand on and pursue what we are passionate about. When we pursue what we are passionate about the brilliance of the cross energies shine through and illuminate those around us. They are impacted by our expression of our cross. Gaga has made a career of getting us to look at things in a different way and Richie has helped us feel it with love and tenderness. Both are using their crosses to support their mission here on Earth.
If you want to read more about Lady Gaga's Human Design you can read her report here.
You can order your personal report here.
Here are some video examples of Lady Gaga's cross energy being expressed.