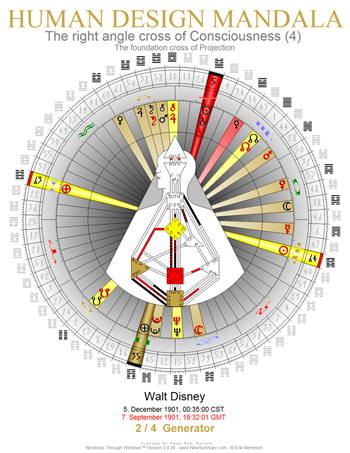 People born under the cross of Consciousness are under pressure to make sense of certain aspects of the world. They are here to bring rhythm and change into are lives. They are here to make us aware of aspects of our lives so we can follow a progression of change or choose to stay the way we are. But whether we change or not the awareness they bring cannot be ignored.
Walt Disney spent most of his life bringing change to the way people experience  life. Through his cartoons and movies he gave people art, entertainment and the opportunity to explore patterns. Often it included age old contemplations of concepts like good verses evil.
Through his theme parks he gave people an opportunity into a wide variety of experiences. At Disney World, you can experience the thrill of roller coasters and log flumes, take a quiet boat ride through the jungle, plunge below the surface in a submarine or ride through the plains of wild animals from Africa. At Epcot you can sample foods from all over the world and learn of cultures from near and far.  It seems a major theme of  his life was to bring this awareness to each person he touched.
For many years Paul Harvey was a radio news broadcaster for ABC radio. At his peak he reached 24 million listeners a day. He delivered the news with a rhythm and a flair for making the listener aware of what was happening in the world. He would typically add in human interest story, dubbed "The rest of the story",  to add to the listeners experience.  He also did the commercials for sponsors in an informative way as opposed to a big sales pitch. He often spoke about how things were changing by presenting the facts so you could decide if the change was good or not. Each day you could listen to Paul Harvey and he would bring an awareness into your life.
Here are the gate names, the I Ching names, followed by brief descriptions for the 4 gates of the cross of  Consciousness.
Gate 64 – Confusion – Before Contemplation – This is the recognition of lots of elements that are related but asks the question, "How do these all fit together?"
Gate 63 -Doubt – After Contemplation – This is logical energy that judges the validity of a pattern or product and asks, "Does this work?"
Gate 5 -Fixed Rhythm – Waiting – This energy is being in sync with the natural rhythms and may be visible in eating, sleeping and working.
Gate 35 – Change – Progress – This is the energy that can tell us what the experience has been about and how we should change are approach, if necessary,  to make it different.
Here are charts for Walt Disney, Paul Harvey and Beyonce Knowles, all born under the cross of Consciousness. The four gate of the cross of Consciousness are circled in blue on the chart for Walt Disney. (Click on image for Larger image)