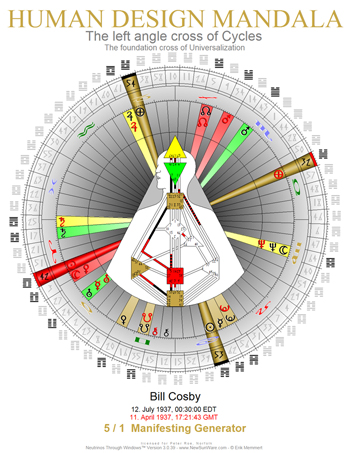 People born under the Incarnation cross of Cycles are born with 2 channels that drive their design. These two channels define the three centers that they connect so all people born under this cross will have the Root, Spleen and Sacral centers defined. This means that they will be a Generator or Manifesting Generator and are designed to have energy to make progress and move forward with a periodic or cyclical rhythm.
The 54-32 channel of Transformation which connects the Root to the Spleen center, is energy that is driven to work its way up the hierarchy or push forward change. The 53-42 channel of Maturation which connects the Root to the Sacral, is energy that has a cyclical wave, staring, then growing stronger, moving forward, and then easing into the finish.
Bill Cosby whose Mandala is pictured above, was born under the cross of cycles. As you look back over his career as a comedian, you see a steady progression of development of projects for TV and film that he managed or participated in. He started as a stand up comedian and then progressed to TV with the Bill Cosby show, Fat Albert and the kids, and the more successful The Cosby Show. At a macro level, each effort went through this cycle of development, progression and maturity that is embodied in the energy of these 4 gates that create these two channels.
I think if you look on a micro level at the detail of some of Bill's stand up routines, and some of his TV episodes you will see the cycle and progression of the energy as well.
The pattern exists in his personal education as well. He left Temple university to pursue his career as a comedian before graduating, but returned to finish and get his degree. He then went on to get an MA from the University of Massachusetts.
Here are the gate names, the I Ching names, followed by brief descriptions for the 4 gates of the cross of Cycles.
Gate 42 – Growth – Increase – This is the energy at the end of a cycle, and as we let go of what is completing we make room for new growth or increase.
Gate 53 – Beginnings – Development – This is the energy of starting a new project or venture or a new page for an old one.
Gate 54 – Ambition – The Marrying Maiden – This is energy that is looking to work its way up, to climb the ladder to a higher position or a greater place of being.
Gate 32 – Continuity – Duration – This is energy that picks up, or smells when change is needed for stability or knows when things are safe to remain.
Here is the chart for Bill Cosby born under the cross of Cycles. The four gates of the cross of Cycles are circled in blue. (Click on image for Larger image)