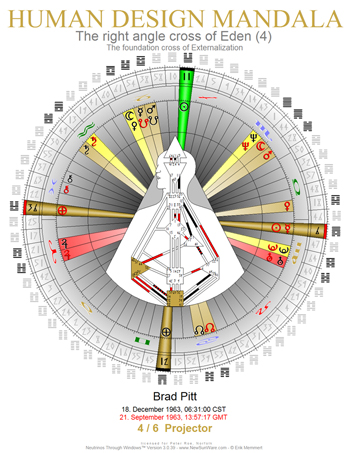 On some level people born under the Incarnation cross of Eden are looking to find Eden here on earth. They are trying to find that utopia in one way or another in their lives. It could be something as simple as a hobby or as dominating as their entire lifestyle but they will be driven to find that place where they feel at home with the experience and the story behind it.
Unfortunately, there are often flaws in the perfection of our human utopias, so the cross of Eden can become disappointed in the reality . However, this can also become a driving force that results in them moving on in search of the more perfect experience or situation.
The cross of Eden is an emotional cross with 3 of the 4 gates connected or in channels connecting to the emotional solar plexus. This cross is ultimately about what is the story or history around a certain place or situation that will bring about an intimate experience that they can share with certain others. There is an energy of anticipation and caution in these gates so there is a strong potential for anxiety leading up to the decision about how this "garden of Eden" experience will turn out. What many on the cross of Eden find out, is that they may have to taste some not so good apples along the way, but that ultimately leads them to the 'Golden Delicious' experience.
Brad Pitt has had the opportunity to explore many Edens as an actor. Each part he plays is a new scene, new setting that he can throw himself into and see how the experience feels and works out.  Though it appeared that Brad had found Eden in his 7 year relationship with Jennifer Aniston, in 2005 he moved on to be with his costar from Mr. & Mrs. Smith, Angelina Jolie. Has Brad found his Eden with Angelina, only time will tell.
Helen Hunt has been in a variety of movies and TV. One of the most notable movies was Twister where she played a storm chaser. I think this element of anticipation and not knowing what will happen when chasing tornadoes runs strong in cross of Eden's. It also feels in many of the roles that Helen has played there is an edge of nervous energy that I believe stems from her cross. Do you see that in her roles too?
Barry Manilow creates his Eden through his songs. As a prolific song writer and performer he has been writing the songs that "the whole world sings".
Here are the gate names, the I Ching names, followed by brief descriptions for the 4 gates of the cross of Eden.
Gate 11 – Ideas – Peace – This is a gate or telling the story or painting the picture including the aspects of its history.
Gate 12 – Caution – Standstill – This energy is like a door that is either open or shut to having an experience.
Gate 6 – Friction – Conflict – This is an energy of intimacy and regulating what and who you will allow in for an emotional experience or interaction.
Gate 36 – Crisis – Darkening of the Light – This is the energetic emotional anticipation of what an experience or situation will bring. This energy can invoke anxiety and or nervous energy.
Here are charts for Brad Pitt, Helen Hunt and Barry Manilow who were born under the cross of Eden.   The four gates of the cross of Eden are circled in blue on the chart for Brad Pitt. (Click on any image for Larger version of that image.)