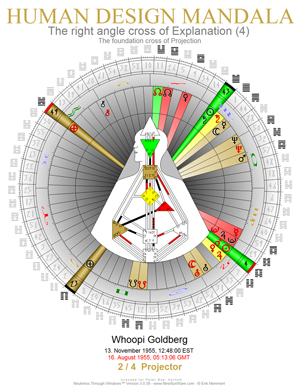 What do Whoopi Goldberg, Anne Hathaway and Dennis Rodman have in common? Well if you answered they all played for the same basketball team you are incorrect. The correct answer is they are all born into the Incarnation cross of Explanation.
The incarnation cross of Explanation carries a unique channel of self expression and individual knowing. This channel, the 43-23,  carries the nickname of the "freak to genius" channel. This is due to the fact that the expression coming from this channel is very individual in nature and at times can be so strange or new that no one gets it. On the other hand the information contained in this expression can be such a fascinating way of looking at something that it can leave people in awe of the genius to come up with such an idea.
The other two gates; gate 4,  contains the energy to evaluate a pattern and create a hypothesis about that pattern and the other gate 49 is the gate of revolution.
In general when you blend this all together you have the energy to logically evaluate what is going on and then lend an individual commentary or expression about it. In some cases it might agree with the status quo and in other cases it might drastically be different.
If you google "Dennis Rodman pictures" you will find that he has a drastically different fashion sense from the status quo. I might call it freakish but others might call him a genius 😉
Here is a brief description of the 4 gates of the cross of Explanation.
Gate 23 – Assimilation – Bringing a structured understanding to possibly complex knowing, perhaps simplified into an individualized concept.
Gate 43 – Insight – This is the "I know" gate because it is unique understanding in an individual way. People with this gate without the gate 23 may say "I know" or "you know" frequently.
Gate 4 – Formulization – Nick named "the answer", this gate evaluates patterns and proposes the are correct or how they are wrong. But really this is just the hypothesis, hence the I Ching name Youthful Folly.
Gate 49 – Revolution – If it works it is good but if it doesn't it is time for a change.
Here are charts for Whoopi Goldberg, Anne Hathaway, and Dennis Rodman all born into the cross of Explanation. (Click on image for Larger image)