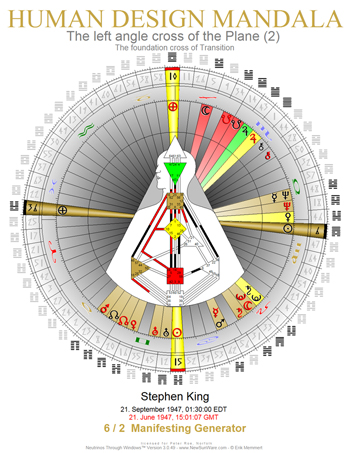 The Incarnation cross of the Plane is a blend of the cross of Eden and the Vessel of Love. In the wheel of the cycle it comes between and shares half of it's gates with each cross. In reality the cross of the Plane brings together the intimate desire for an experience with the loving aspects of modesty and self behavior. In it's experiment mode this cross will try to push the boundaries of what may or may not be acceptable to find out if the experience is truly accepted. In a sense these energies combine to bring the fictional emotional projections of what will happen into the actual behaviors of doing resulting in the physical experience.
Stephen King is a notorious writer of macabre fiction. His writing paints worlds of many different dimensions into reality. Perhaps his worlds are not the Eden in your imagination or the experience you wish to have, but in his work he takes you deeply in and lets you feel what it would be like if it really existed. He is a master at emotional and physical provocation with his work.
Vanessa Williams made the scene when she won the Miss America title in 1983. But her behavior was quickly brought into question when it was discovered she had posed in the nude for Playboy magazine. Her behavior, whether you believe it right or wrong, tested the collective as to what behavior we should be allowed to experience and what was is unacceptable. Ultimately she was asked to step down by the organizers and the crown was awarded to the runner-up. Vanessa rebounded to use her talents to achieve several honors in acting on both stage and screen as well as recording a couple of #1 music hits.
Here are the gate names, the I Ching names, followed by brief descriptions for the 4 gates of the cross of the Plane.
Gate 6 – Friction – Conflict – This is an energy of intimacy and regulating what and who you will allow in for an emotional experience or interaction.
Gate 36 – Crisis – Darkening of the Light – This is the energetic emotional anticipation of what an experience or situation will bring. This energy can invoke anxiety and or nervous energy.
Gate 10 – Behavior of the self – Treading/Fulfillment – In harmony, this is energy of being yourself and being one with your behavior and actions.
Gate 15 – Extremes – Modesty/Humbleness – Energy that prefers fluctuations and swings in rhythm to maintain the internal rhythm within.
Here are charts for Stephen King, Vanessa Williams who were born under the cross of the Plane. The four gates of the cross of the Plane are circled in blue on the chart for Stephen King.
Bill Murray's birth time is not publicly known. Is he a cross of the Plane or a Vessel of Love??
I have included both charts for discussion on the radio show. Click to Listen.
(Click on any image for Larger version of that image.)