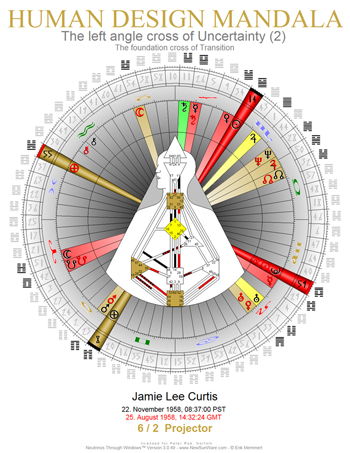 Now these ladies have certainly left there mark on the world but Jamie Lee Curtis, Goldie Hawn and Cher all were born under the cross of Uncertainty. People born under this cross carry a high dose of energy that is bound to create mutation an change. One underlying reason for this is that 3 out of the 4 gates are individual energy by nature. Individual energy drives us to do things "our own way". When we do things in a unique way it can bring about recognition in others and become adopted by the greater collective. Of course the other side of this is that different thing we do can fall flat on its face.
Cher, for example, has a long history of doing things differently. Some of them were quite successful for her and became hip, and other aspects did not really pan out. One choice she made was the naming of her daughter Chastity. Recently, there has been a lot in the news about her daughter as she has gone through a transsexual process and now calls himself Chas.
Goldie Hawn while known for her acting, is a bit controversial in her religious views. She considers herself a Jewish Buddhist, and has a foundation which teaches children mindfulness awareness techniques. To some they might consider this combination of beliefs lacking certainty.
The most uncertain thing in Jamie Lee Curtis's life may be what acting genre she will appear in. She started out in the horror genre but has since worked her way through comedy and drama. In addition she has made appearances in a number of television shows and has written many children's books. Talk about mutation, she has a patent for for a diaper with a moisture proof pack that contains a diaper wipe that can be retrieved with 1 hand. She went so far as to limit it's marketing to a company that created a biodegradable diaper.
Here are the gate names, the I Ching names, followed by brief descriptions for the 4 gates of the cross of Uncertainty.
Gate 8 – Contribution – Holding Together – This is individual creative energy which connected to the throat that creates self expression. Since it is individual energy it can be mutative energy.
Gate 14 – Power Skills – Possession in great measure – This is the energy to do the things that empower us. It is the energy of self empowerment.
Gate 55 – Spirit – Abundance – This is the emotional energy and expression of spirit.
Gate 59 – Sexuality – Dispersion – This is the energy of sexuality and the drive to continue the species.
Here are charts for Jamie Lee Curtis, Goldie Hawn and Cher who were born under the cross of Uncertainty. The four gates of the cross of Uncertainty are circled in blue on the chart for Jamie Lee Curtis.
Check out our discussion of this cross on our radio show. Click to Listen.
(Click on any image for Larger version of that image.)