Every picture tells a story. The human design chart of Joni Mitchell is no different. Born under the cross of the Sphinx she is here on earth to give people direction through her expression. Girl, did she do that.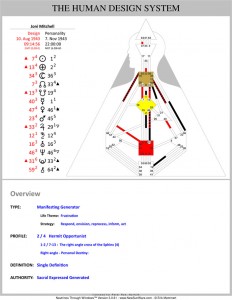 How many people did Joni Mitchell give direction? Did her music and expression influence you? Her music, painting, self-expression  and creativity has been noted by many popular artists as inspiring them. I'm sure there are thousands, maybe millions like me that were impacted by her as well.
Joni was born with her lead gate 1 in the Sun. This is a gate of self-expression and direction. Individual expression. She has the gate 47 of abstract thinking or putting the puzzle together. I watched an interview with her and she talked about how when she played her guitar she would tune it with the ambient sounds in the area. She talked about one song, the Magdalene Laundries that she wrote on the steps of her apartment, and she had tuned the guitar taking in the sounds of the birds and other sounds of the city, putting those abstract pieces together. The song itself was inspired by a news story in a paper she had read. Her open solar plexus along with her gate 36, a highly charged emotional gate amplified the story and brought to life the sad tale of women of the Magdalene Laundries. I think that the melancholy in many of Joni's songs are expressing the combination of the emotionality of gate 36, the undefined Solar Plexus amplifying the emotions and the sensitivity and melancholy of the gate 19.
See the interview and song http://youtu.be/ATaFyIbd5hY
The direction that Joni gave a lot of us was not do this or that, but through the influence of her expression we were moved in a direction one way or the other. In fact this piece was moved by many years of listening to her music and last night I watched a movie that had reference to the Magdalene Laundries. I remembered her song about that so after listening to it this morning, here I am being given direction by Joni to write this piece. Sphinx's are not here to tell us what to do, they are here to move or influence us in some direction. The rest is up to us, to move or not.
Another notable  part of Joni's design is her throat. It is busting with expression with 2 channels, 4 hanging gates and 2 other potential gates. She is designed to sing about:
Leadership or leading via the channel 7-31
Secrets via the channel 13-33
Rulership via the gate 45
With talent and enthusiasm via the gate 16
Emotionality or anxiety via the gate 36
Individual thought via the gate 23
Individual expression via the gate 1
When I think about her song Big Yellow Taxi can't you see a bunch of these come together?
It is no surprise in reading about her this morning that Joni solely produced most of her music. She has the gate 40 without the gate 37. People with this configuration are more likely to go it alone then make the bargain and give up some of their individuality to be part of a team, family or tribe. That doesn't mean she didn't or wouldn't collaborate, but especially with the individual expression of her gate 1 and gate 23, she would want enough control to make sure her expression made it through the collaboration. Marriage too is a team effort and the end of her marriage of 12 years to bassist Larry Klein may have fallen victim to the aloneness of gate 40. That is not to say that people with just the gate 40 are doomed to get divorced, it just means they should be acutely aware of their need for their personal freedoms/expression and communicate with their partner to keep the balance of this energy.
Joni's career lasted more than 40 years and a lot of that was due to her talent and her creative expression. From her folk singing days to rock to Jazz back to rock she kept adding individuality into her music. In fact, some of her later work she retooled her earlier songs to both fit the change in her vocal range and perhaps fit the change in her emotional perspective.
This live performance of both sides now, shows a masterful rework of her classic for her youth and expresses a lot of the elements in her chart.
Compare the 2 if you will
1970
2000