There was a lot of media talk about President Trump skipping the White House Correspondence dinner. NPR reported that he couldn't take the criticism and the New Yorker implied he did the nation a favor by skipping out. There are varied speculations as to why, but you need look no farther than his design.
Open G is the major motivator here. Donald Trump with his open G wants to feel Love all the time, but it can feel so inconsistent to him. He constantly needs to be reassured and that was certainly not going to happen at the press dinner. This is why he can be loyal to friends that may be dragging him down, like Vladimir Putin. They have shown him love in the past and he so craves that.
To avoid the criticism, President Trump's need to feel love drove him to create an alternate love fest in Pennsylvania where he could control the venue and rule it with his channel of Rulership. This is not to say all open G's will act this way. Trump's behavior suggests his open G has been conditioned or hardened to protect the sensitive nature of the open G, which is likely why he lashes out with tweets and quips at his opponents and others.
One of the reasons Trump is so open to criticism is likely his gate 29 itching to say "Yes" to be loved. He has often gotten himself boxed in on issues or policy by saying yes before he has thought things through on what that Yes really means.
In addition, President Trump is of the cross of Eden. He always has his eye out for creating or being in "The garden of Eden", whatever form that takes. Let's see… getting mocked and filleted at the press dinner or a Love Fest where you are the rock star? Obvious choice for an ego manifesting emotional generator. You can see his efforts to create "The Garden" through his businesses. Always an attempt at top shelf, glitzy, glamorous, things you would find in Donald Trump's Garden of Eden.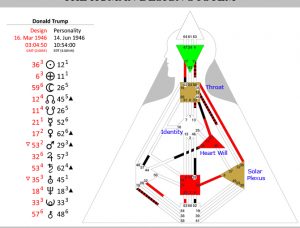 Do you think maybe in Queen fashion he is saying, "Can anybody find me somebody to Love Me"?
Perhaps not the lyrics, but the passion Freddie Mercury shows in the song, helps to highlight the unloved open G.