In relationships, Human Design can play big part. As with all of life, this is where energy comes together. But in close and lengthy relationships, the interaction of the energy can play a huge part. You have probably heard the expression, "You complete Me!" and in certain relationships that is exactly what happens.
Good Actors and Actresses are very good at convincing us that they are the character they are playing. When they play parts as a couple, we may comment they have good chemistry or they don't have chemistry. It is part of what makes a good pairing in a Movie. The movie Pretty Woman was wildly successful in the 1990, where it introduced Actress Julia Roberts to the world. She played a prostitute who meets up with a very wealthy and highly successful business man played by Richard Gere. While these are two great Actors and much of the success is certainly due to them, I would venture to say it was the chemistry of their Human Design, that was the magic that fueled such wide success.
In an interview for the 25th anniversary in 2015, Richard told the story of how he met the young relatively new actress Roberts went on to convince the director to give her the part, perhaps over more seasoned actresses. Sure, perhaps it was her beauty and charm, but behind the scenes I would speculate that the alchemy of Human Design was at work.
In Human Design, when one person has one gate in a channel and the other person has the other gate we call this an electromagnetic connection. Just like how two magnets pull toward each other, electromagnetic connections have been pulling people together for ions. If a couple has 2 or 3 of these connections that is typically a persuasive pull. In the case of Julia and Richard, it is like a tidal wave with 6 of these connections.
In addition, Julia gives Richard 2 tribal channels related to sex and promotion of the tribe, and Richard Gives Julia, the full channel of Family. With the sum of all these connections and channels they really do complete each other in the Human Design sense. It is part of what makes them such an irresistible pairing in the movie and fuel for the viewer, to root for this unlikely relationship to succeed. We can feel that their energy is meant to be together.
See some of the chemistry unfolding in this scene.
So let's break the connections down in terms of Human Design in the composite chart below.
I have used ovals to highlight their electromagnetic connections.
Head to Ajna – 61-24 – Individual understanding
Ajna – Throat – 43-23 – Individual knowing expression (freak to genius)
Ajna – Throat – 17-62 – logical opinions and details
Throat – Heart-Will – 45-21 – ruler-ship – owning it
G-Self – Spleen 10-57 – being yourself in the moment
Root – Sacral – 60-3 – mutative creation
I have used rectangles to highlight the channels they give each other.
From Julia
Spleen to Sacral – 50-27 – mothering and fathering energy
Sacral to Solar Plexus – 59-6 – sex and reproduction
Head to Ajna – 64-47 – Abstract understanding
From Richard to Julia
Solar Plexus – Hear-Will 37-40 – family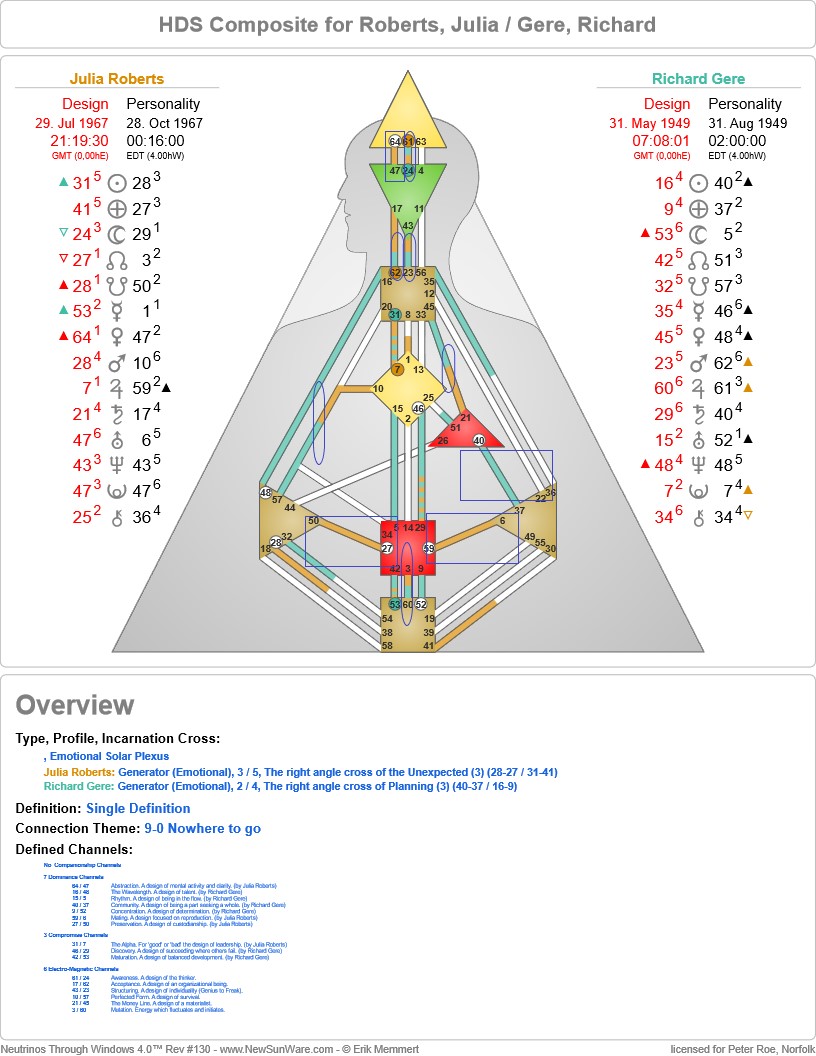 Here are their individual Charts.