Gwen Stefani is an icon in the music industry. After an 18 year career headlining with the band No Doubt,  she launched a clothing line and a successful solo career. She has won 3 Grammy's, 2 Billboard awards and an American music award. Lately she has made 5 appearances as a coach on The Voice and was the winning coach in the latest season, season 19.
Gwen has an eclectic style in music and fashion and you only have to watch a few episodes of The Voice to see the exotic flare she brings in her fashion. If she has a signature to her look, it might be her exposed midriff and bright red lipstick. At 51 she is holding her own against mother time. So let's look at her Human Design to see what may have helped this Hollaback Girl be so successful.
At the core of her design, Gwen has the defined Sacral to the Spleen to the Heat-Will centers. In a sense, this is core power in the moment. She has the powerful Sacral of Generators, connected to the in-the-moment Spleen center through the nurturing and nourishing channel of the 50-27.  From the Spleen she has the 44-26 channel of the salesmen that connects the Heart-Will center, drawing you in and telling you what you need and want. On top of this she has the gate 45 talking about how to rule this all, or at least how to rock it.
Up top in her design between the Head and Ajna centers is the 61-24 channel, which brings her version of understanding the world through her music and her fashion. With this energy sometimes we get it and sometimes we don't, or maybe at times we are just not ready for it. But with a 5-1 profile, she brings a magnetic charisma that draws us in to see what she will do, sing or wear next.
Since coming to The Voice, Gwen has developed a budding romance with Voice coach and country star Blake Shelton. They recently announced their engagement in October of 2020. It seems to me that some of the eclectic combinations in her music and fashion are her undefined G-Identity center expressing variations of who Gwen is. As her relationship with Shelton has grown, so has her interest in country music which seems quite a twist for the pop rock oriented California girl.
Her latest single and music video, "Let Me Reintroduce Myself", highlights her historical music fashion as she pulls out some of her old outfits and in a song that rides a real reggae vibe. I also wonder if part of the background energy pushing this forward now is the drive to express parts of her identity that were fading with the new country girl guise that she has been showing. This country girl expression in style and song is probably influenced by Shelton's defined G-Identity center that is steeped in country music and county life. And who could blame her?!
Here is Gwen Human Design and check out her report here.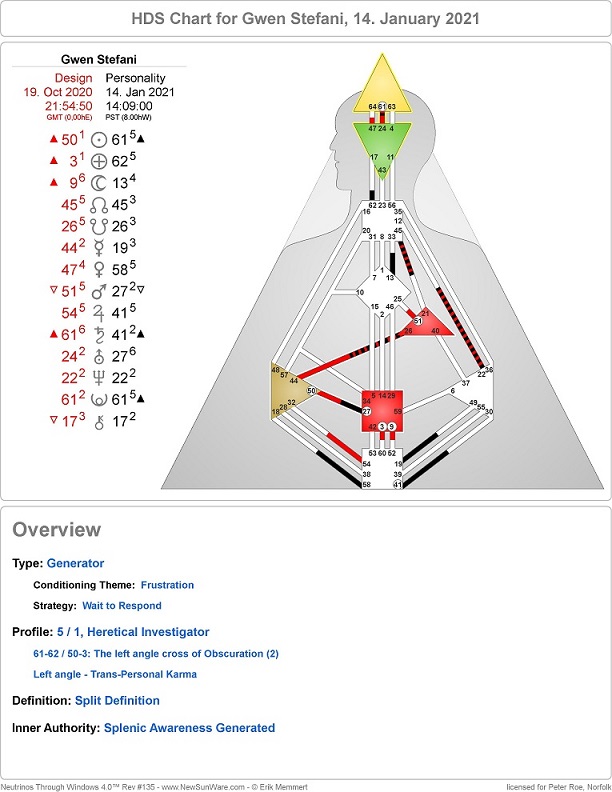 Check out Gwen's latest video and single wear she reintroduces all those different characters.
And what is a Hollaback girl you might ask?
Check out her Carpool Karaoke with James Corden and see what she says and who drops in!