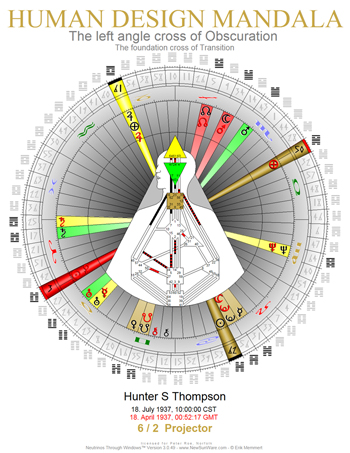 Hunter S. Thompson, Richard Branson and A.J. Foyt were all born under the Incarnation Cross of Obscuration. People born to this cross can get lost trying to understand some interest, passion or passing fancy. Being lost in something is not a negative thing. It can have both negative or positve side effects.
Take A.J Foyt and his passion for racing. A.J. got so lost in his passion that he was the first person to win the Indianapolis 500 4 times. According to Wikipedia he is the only driver to win the Indianapolis 500, the Daytona 500, the 24 hours of Daytona and the 24 hours of Le Mans. You could say he was driven to really know racing in many different forms and types of race cars.
Richard Branson is probably most famous for starting Virgin Records and Virgin Atlantic Airways. He has made numerous attempts to set world records. Some of these have been to break the speed records of sailing from one place to another. His most notable was an attempt to circumnavigate the world in a hot air balloon. You might say he is trying to reach for the unreachable.
Hunter S. Thompson is an author and known for a variety of writings including including Fear and Loathing in Las Vegas, Where the Buffalo Roam and the Rum Diaries. Early in his career he spent a year riding around with the Hell's Angels Motorcycle gang documenting their existence. His works often took a deep but obscure focus on the subject at hand. He is portrayed in his movies as a lush, obsessed in alcohol and drugs. Was this just a foggy obscuration of his reality?
Here are the gate names, the I Ching names, followed by brief descriptions for the 4 gates of the cross of Wishes.
Gate 3 – Ordering – Difficulty in the Beginning – Once we make change or mutate we must finish the change into a new form of structure.
Gate 50 – Values – the Cauldron – Preservation which is achieved by the act of nurturing.
Gate 61 – Mystery- Inner Truth – The energy and pressure to know why.
Gate 62 – Small details – Preponderance of the small. This is the energy to put a name on things so we can analyze them..
Here are charts for Hunter Thompson, Richard Branson and A.J. Foyt who were born under the cross of Obscuration. The four gates of the cross of Obscuration are circled in blue on the chart for Hunter Thompson.
Check out our discussion of this cross on our radio show. Click to Listen.
(Click on any image for Larger version of that image.)