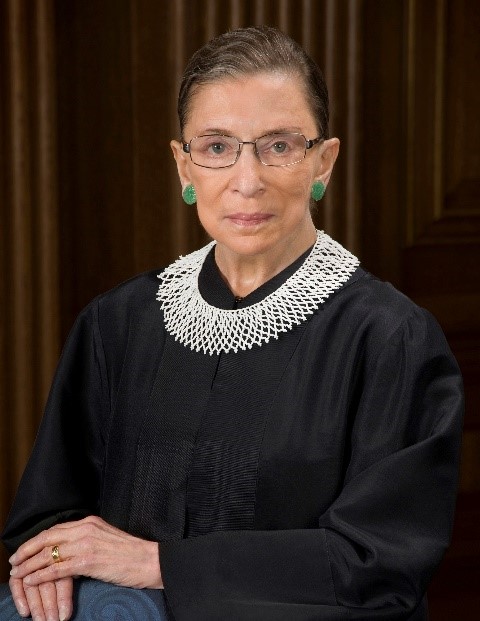 I heard a radio lab podcast replay on the night RBG moved on from this world. The episode focused on a key trial in her career to get equal rights for women. From 1973 to 1976 she argued 6 cases of gender discrimination before the Supreme court, sometimes on behalf of women and sometimes for men. The case in focus on the podcast was actually two cases. She consulted on a case that represented men in Oklahoma and a woman who managed a drive through liquor store. At the time men in Oklahoma could not buy beer until they were 21 but women could buy beer at 18. The liquor store was next to Oklahoma State University and so the young men at the college would get the sorority girls to go buy beer for them.
The liquor store owner was trying to get the law changed and was represented by a somewhat stubborn male lawyer, who despite Ginsburg's advice insisted on presenting the case to the Supreme court in his own way. His resulting experience in front of Supreme court did not go how he had planned. Yet somehow Ginsburg got on the Supreme court docket right after him on the same day for her case representing a woman in a discrimination case. Before the supreme court she was able to tie and weave these two cases together, and while they were both about discrimination, they were also very different in their details and aspect of the laws and how the constitution applied to them.
After I heard this, I was intrigued if I could see this in her design. I was not disappointed as sure enough once I ran her chart, I could see the core energies that not only helped her win this case but also helped shape her career to be that great judge that she was.

At the core of what I see, is she has a defined mind that is connected to the throat. These connections, give her consistency to deliver her thoughts and ideas with her voice and in writing her opinions. She has a lot of defined energy in the abstract circuitry (outlined in blue in the diagram below) and also a lot of defined energy in the logical circuitry (outlined in red). She has the gate 63 to focus doubt or attention of thought on a product, process or treatment of people as in this case. That circuit crosses over and she has the 17-62 channel which has opinions and infinitesimal details about that whatever is being discussed as well, all the while looking at it with a logical, step by step analysis.
But she also has the abstract circuitry which is putting the pieces of the puzzle together or grouping things that one might not logically think will fit together. She has the 64-47 channel to bring together the abstract and crossing over she has the gate 11 to tell the story of why or how those all go together.
In the cases cited by the podcast she had done just that, brought 2 cases before the supreme court that might not seem like they fit together but ultimately mesh and supported her cause that all people were equal or should be under the law regardless of their sex. She later went on to support other equality measures to combat gender discrimination.
An additional element of her design is her completely open identity center, which potentially gave her the ability to feel her defendants plight and later as a member of the supreme court put herself in others shoes. Also, she was the incarnation cross of Eden, so for each situation she contemplated whether abstractly or logically, she had the underlying emphasis of how could the outcome of the trial or ruling lead to a little part of Eden on earth, that beautiful garden that is peaceful, beautiful and supplies us with everything we need. I don't think her dying request to wait until after the election to approve a replacement justice, was political. I think it was her design expressing itself as the right thing to do in Eden would be to let the people choose.
To see RBG's full report …
https://loveyourhumandesign.com/app/uploads/Reports/HDReportRBG.pdf
To order your own report
http://loveyourhumandesign.com/human-design-angelic-blueprint-report/