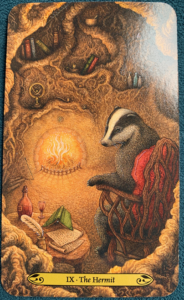 The second line in Human Design is dubbed the Hermit. 2nd line people need quiet or down time to integrate things they have learned or experiences they have had. Since the 2nd line is projected, others pick up on this and naturally offer out invitations to the Hermit. "Hey, come out to the movies with us or Hi, want to go for a cup of coffee." My mentor Karen Parker would talk about how the 2nd line thinks they are hiding out in their apartment, and no one can see them. Yet to others, it is more like they are in their apartment alone, the lights are all on, the shades are up for any passerby to see them. So, the rest of us see them and we invite them out.
Now the 2nd line comes in a variety of flavors because the profile consists of two lines. So, the line in addition to the 2nd line will add to that flavor of action or expression. Most of the time, 2nd lines have a natural balance of getting their alone time and being invited out. However, I have noticed two examples of the reluctant Hermit.

The first occurs in the 2-4, when they have been overscheduled or overextended themselves to too many or too frequent invitations.   At this point the walls can go up, they start throwing out boundaries in perhaps a desperate attempt to go into the cave and shut the door for a while until they fill up the empty alone time shelf. They become the reluctant Hermit shutting down invitations left and right.

The second type of reluctant Hermit that I have noticed is the 6-2. Now you probably know the 6th line has 3 life stages. The second stage is from age 28-51 and the 6th line is up on the roof. At 51 they are scheduled to come off the roof and step into the role model phase for the last third of their life. But at this point, some 6-2's become the reluctant Hermit. Life on the roof, the stepped back vibe of observing life, the opportunities for alone time feels so good that they really don't want to get back in the action. I some cases this results in the 6-2 to be pulled off the roof at some point by life's events a bit after the scheduled coming off the roof at their Kiron return.
The point of this observation is about awareness. A micro strategy for any 2nd line is to assess from time to time, "Are they getting the alone time they need or are they stuck in their cave?" From this point of awareness, they can act to either lower or raise barriers and accept or decline new invitations to get back into balance with their energy and their profile.
So, the question for today is … "Do you have any reluctant Hermits in your circle at this time and if so, how can you invite them into balance or even just gently make them aware?"
Note – The Hermit Tarot card from The Enchanted Forest Deck, by Lunaea Weatherstone