As I was watching Ellen DeGeneres on the Ellen Show the other day I started to contemplate the contrast of her behavior on her talk show verses her advertised other show Ellen's Game of Games.
On the Ellen Show she is generally fun loving, dancing in the audience and chummy with the guests. She often gives away lots of prizes and gifts to the audience. I saw an episode where she sponsored an animal wildlife sanctuary and with the help of a sponsor. I think she sent them $10,000, and a ton of food for the animals.
Yet on her show Ellen's Games of Games, she puts the contestants through all kinds of crap that could be seen as mean. She has contests where people get sprayed in the face with all kinds of messy stuff, drenched with water, blindfolded so they embarrass themselves and fall down and at the end 3 out of 4 people free fall from a very high height through a trap door when they get the question wrong and lose.
So just who is the real Ellen?
Will she please stand up!
(I'm not the only one asking this question. Joe MacLeod from the HMM daily seems to think she is Mean. Read More )
But I think it is more complicated than that and I was willing to wager that her Human Design would offer some clues.
So in looking at her design the first thing that stands out is she has a completely open G center. People with and open G can have an inconsistency in their identity.  For some it is more historical. The become a waitress, then a singer, then a mother, then a teacher etc. All in an attempt to uncover their real identity that has resonance for them. For others, like Ellen it can seem more variable in the moment. So there is an Ellen that can be sweet and generous and caring and there is an Ellen that can be wild and insulting and embarrassing and put people thru trauma. With the open G these can easily coexist and show there face periodically.
Looking at her design, it would appear the driving force in her "Meanness" is the gate 51 Shock. The 51 is all about waking people up or shaking people awake into a greater awareness and into Universal Love. Remember, in Human Design all of the energy is trying to reach the throat.  Look at the diagram below.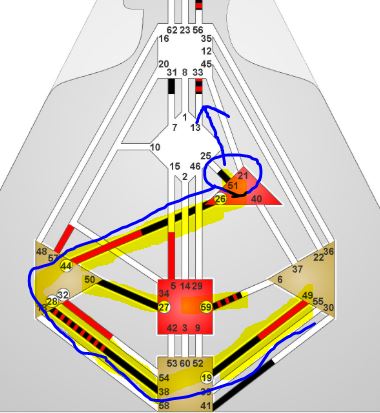 With Ellen's design, if you follow her defined energy channels they are flowing like a river from Solar Plexus to her Root to her Spleen, where the Sacral energy also pours in and then to the Will and to the hanging gate 51. The 51 stretches toward her Identity and when it can, makes the jump of energy  to the Identity and then out the Throat into expression. The 51 potentially acts as capacitor, which builds up energy and then it allows it to shoot past. In this case shooting past with the flavoring of shock.
If we go back and look at the channels that feed this, there is the 28-38 which is struggle or the game of life. Hmmm… sounds fairly similar to Game of Games! I think behind her  games there is a provoking quality to look at life and these things you are trying or doing to your self.
Is the embarrassment, fear, humiliation worth the risk for the moment of fame and or money you might win?
Additionally, as Ellen is a 5th line which is projected energy. The platform of TV allows her to project this same message onto the viewers. Would I get shot in the face with goo, or dunked in water or drop from a height?
The mere thinking about it can make you wake up to the contemplation about life and risks and what exactly is the game of life that we play every day and what does it mean.
To me that is not Mean, it is an interesting contemplation that Ellen is giving us an opportunity to ponder.
So is Ellen Kind or Mean, I think she is both and many flavors in between and her open G leads the way for her to be this way.
Human Design Report For Ellen DeGeneres